As we look ahead to the new year, it's a good time to put processes in place for how to do better work – and how to better serve customers. It's also a good time to audit how you're currently connecting with your customers and see if there aren't any improvements you could make. We've outlined the main options for how to communicate with your customers, and a few questions to ask yourself as you prepare your 2021 strategy.
Social media
This one has to be top of the list because it is such a big part of our everyday lives. Whether it's Facebook, Instagram, Twitter, LinkedIn or YouTube, social media is a really direct way to connect to customers. Have you got a social media presence for your small business, and if so, are you engaging with customers on it? 'Engaging' doesn't just mean putting up posts with links to your articles, but asking questions, responding to comments and looking at the likes and shares various posts receive so that you know how to tailor your content to meet your customers' needs. Ask yourself: Am I on the right social media platform?
Email marketing
It's true that none of us need more unnecessary emails – but we all need emails that make our lives simpler. The internet is full of so much information that anything that helps us cut through the clutter is helpful. How could your email marketing do that?
There are a few things to keep in mind when setting up an email newsletter. Ask yourself these questions:
What does my email offer that my customers can't get elsewhere?

Can I make the messaging clearer and more succinct?

Is it mobile friendly?
The last thing you want is for your email to look strange on mobile – or, for that matter, for your website not to be mobile-friendly. The latest stats show that in South Africa more than 75% of traffic is on mobile devices. Take a look at our Website Health Check to ensure your site is performing at its best.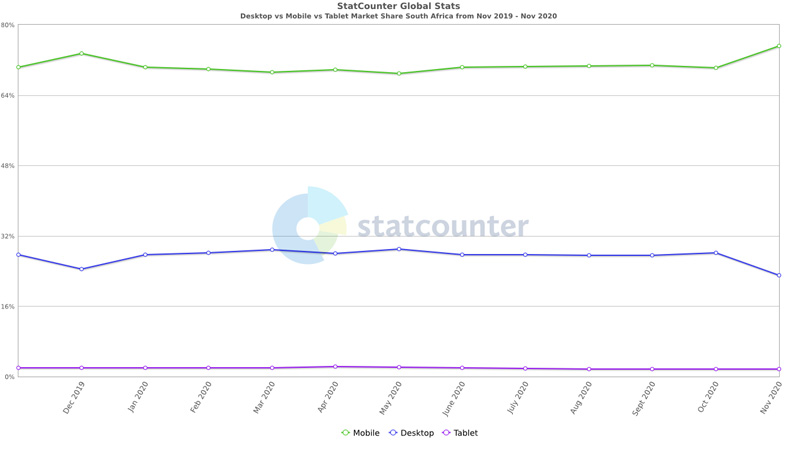 Source: StatCounter Global Stats – Platform Comparison Market Share
Videos
Depending on your business, creating videos for YouTube or Facebook may be an excellent way to connect with your customers. If you have knowledge that could help them – tutorials, webinars, DIY videos or explainers – you can create short videos to upload onto YouTube or Facebook. This approach is helpful for businesses that offer a service or sell a product that may be complicated to understand.
If you prefer a more dynamic approach, you can also do Facebook Live or Instagram Live videos, where you invite customers into your space for a few minutes. These kinds of videos work well for restaurants, venues or small businesses who create their products on site. Everyone loves a behind-the-scenes peek! Ask yourself: how could I use video to make my business more appealing?
Podcast
Did you know that podcasts are now given featured search results from Google, and that in the next year podcast transcripts will be indexed by Google? Google Podcasts lets you "find and listen to the world's podcasts for free." What that means for SEO is that if you have a podcast, you are automatically going to be showing up in search results that you couldn't access otherwise. Not sure where to start? Here are some tools for creating a winning podcast.
Connecting with your customers is one of the 'golden rules of content marketing' (connect – create – share). As you look forward to the new year, it might be helpful to take a look at the way you communicate with your customers, and if there's room to do things a little differently in 2021.