Delicious beginnings
Sometimes a passion can start in the unlikeliest of places, and in Sibonginkosi Msipha, aka Mama Bongi's, case, that place was Amazing Spaces where she worked and baked cookies as a thank-you gift for clients. But not just any cookie – the crumbliest, chocolatiest, most morish chocolate chip cookie that people could not get enough of.
The clients were so happy about the cookies and asked how they could get more.
Her chocolate chip cookies became so popular that orders started coming in and she was advised by Amazing Spaces director Julia Finnis-Bedford to jump on the opportunity and start a business. It was a leap of faith that paid off. Today, Mama Bongi operates an online chocolate chip cookie business that offers nationwide delivery and lists her numerous stockists.
"I learned that when you're starting a business, don't wait for perfection. Just keep on trying and putting it out there. Also, have someone who is guiding and teaching you. You have to ask and listen to the feedback the clients are giving you so that you can follow what they want," she advises.
Using her business to pay it forward
As a business owner, Mama employs two full-time chefs and is able to support her own family in Zimbabwe. Mama and her 'mentor' Julia, who encouraged her to start her business, both believe in the vision of changing the world by creating employment – one person at a time. Julia provides Mama Bongi with premises from which to operate and shares her knowledge gleaned from running her own business.

"Having a mentor is very important because I came from nowhere, and sometimes I'm afraid to do something. Julia will say 'Mama you need to go for it go and follow your dreams'. So having someone who is already in business who can show you how to do things is so very important," she says.
Mama is appreciative of the support she has received and the opportunity it has provided her to support others. "We are able to support other people so they can support their families," she says.
Mama is happy to share what she's learned with other small business owners.
"My advice for someone starting a business is that you should have a mentor or an advisor. Accepting feedback makes your products better. So I think just follow your dreams and have good communication with the audience. Don't be afraid."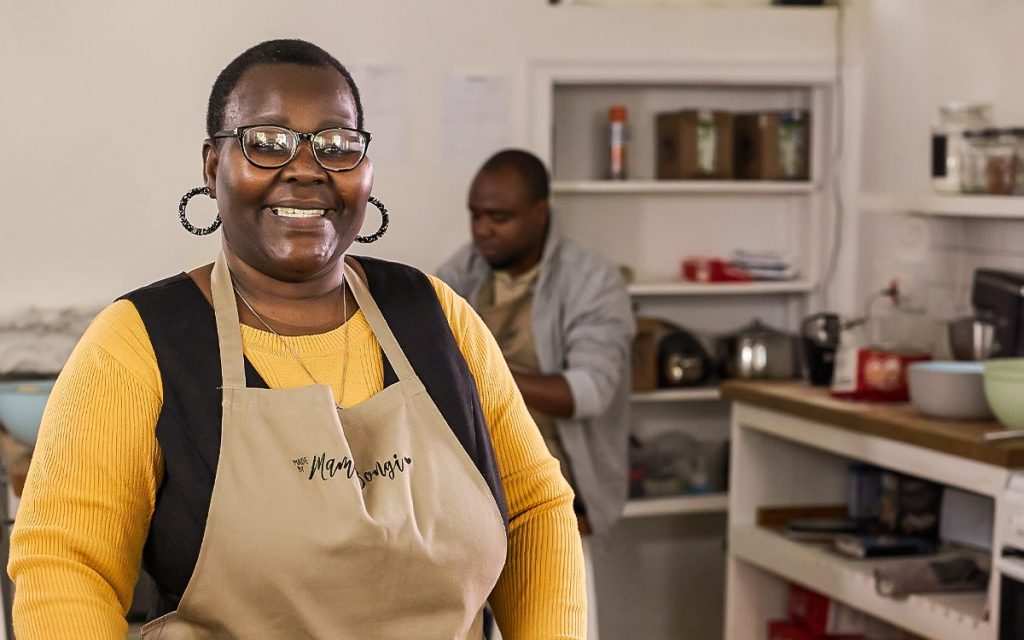 A growing e-commerce success
Mama Bongi's website is hosted by xneelo through Clicks Count. Being online allows Mama to reach a wider customer base. She currently delivers to eight major centres nationwide and supplies more than 50 stockists.

"The website is very important," she says. "I'm in Cape Town but when we put our cookies on the website it goes all over, so a lot of our people and clients see our products on the website and it's easy for them to order."
She says the website has also been incredible for exposure. Mama's business has appeared in print media, online platforms and national television. This popularity has her excited for the future. "I would like to have a very big kitchen with a lot of workers. I think it will be very good for supporting the people and helping to create employment. When we are big like that I think it will be a nice thing for creating employment. I hope we can sell our cookies all around the country and in all the shops."
Xneelo is proud to support Mama Bongi's business with reliable web hosting, 99.9% network uptime and 24/7 support to ensure her website continues to perform at its best.
For the people who have supported me out there, I really appreciate it and thank you so so much for the love.
Were you inspired by Mama Bongi's story? Read more xneelo customer success stories here.