Deciding which WordPress theme to use is like choosing which colour to paint your room. You can change it later, yes, but you'll be living with it for a while so it's one of the more important decisions you'll need to make – after choosing a web hosting provider you can trust.
Theme shopping is a fun part of the design process, but it can be overwhelming. To make this task a little easier, we've outlined some simple advice on choosing a theme you'll love.
What is a WordPress theme?
A WordPress theme is a collection of templates that determine how your website will be displayed. Each theme comes with distinct features, layouts, and designs, most of which can be customised.
Choosing a theme isn't easy, as there are over 31,000 options available across the internet. While you can change your mind later, switching out your theme is not always a simple process. We recommend taking your time with this decision and picking a solution that meets your long-term needs.
Choosing a theme
You can get started by browsing the WordPress Theme Directory, where you'll find a selection of free themes. The theme directory groups themes by the most popular and latest options, but you can sort them by specific features: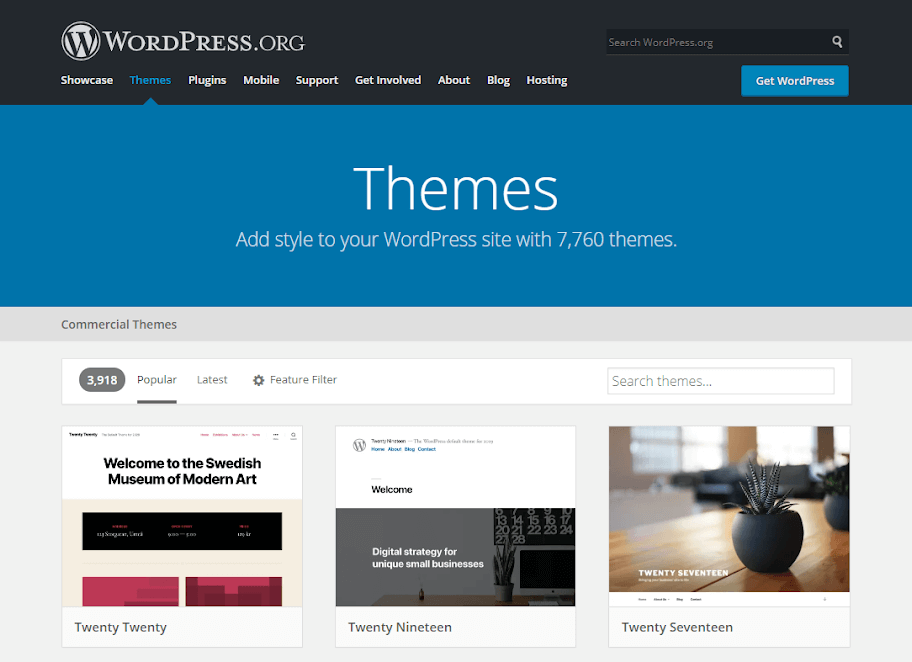 If you're interested in premium themes, ThemeForest is a useful site. You'll find thousands of themes organised by industry, and you can filter them based on specific features. There are plenty of affordable, good-quality options: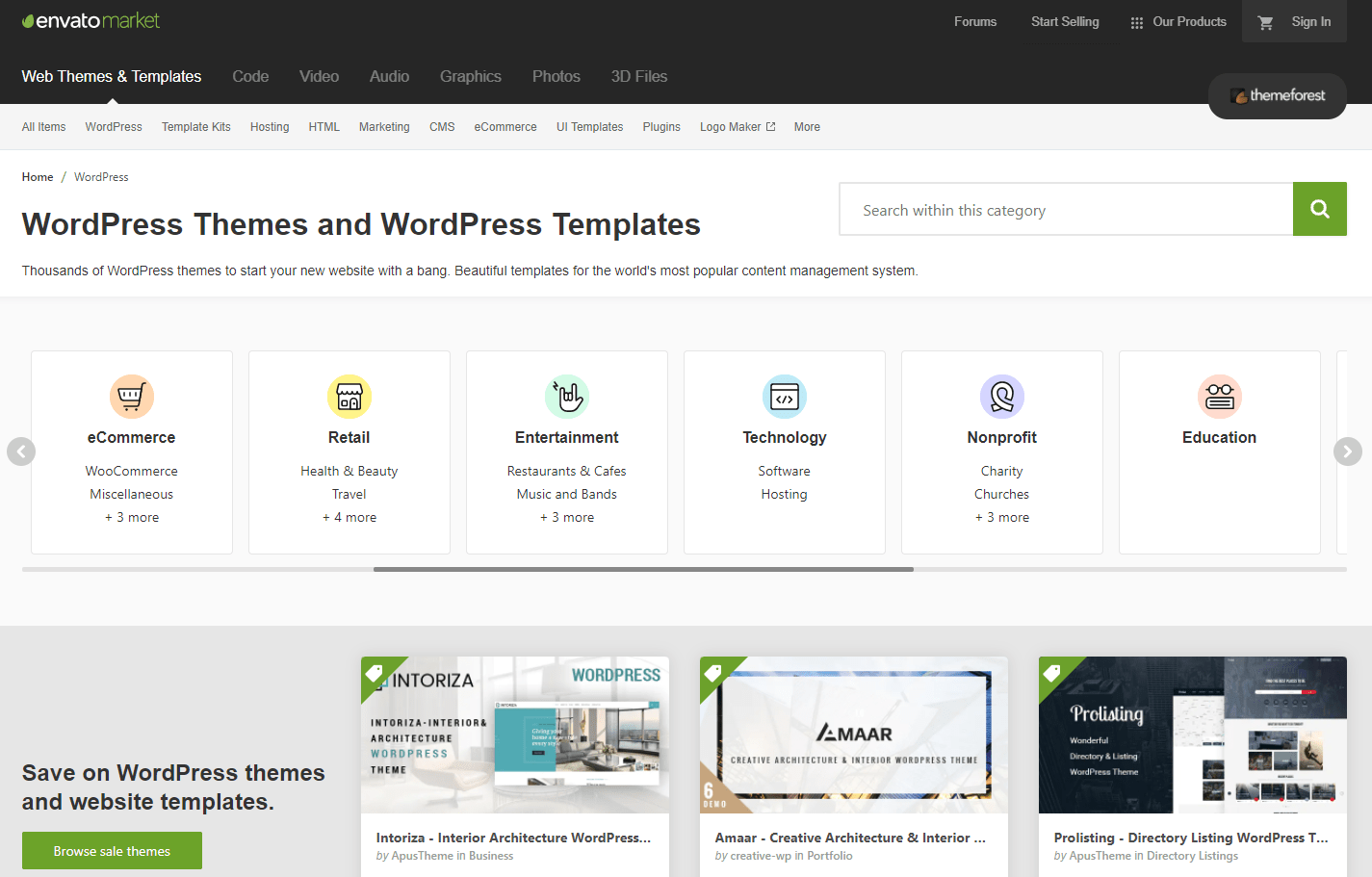 Deciding between a free or paid theme
It can be tempting to choose a free theme, especially with so many available options. However, a free theme isn't necessarily the best option over the long term.
Typically, free themes don't have the same level of support as paid ones. This means you run the risk of your theme not being updated regularly, which makes it difficult to maintain site security.
The benefits of a freemium or paid theme
For example, a developer could choose to abandon a theme and move on to another project, eventually rendering your theme ineffective. This could force you into having to switch themes when you'd rather not.
Some developers offer a freemium and paid-for version of the same theme, which is a useful option if you're just starting out and not sure how much support you'll need for your website. You're almost guaranteed that the theme will be kept up to date because there is a paid version, and you can upgrade if you need to at any stage.
Choosing your features
To make your theme search more manageable, start by understanding what kind of website you have. This will help you prioritise what features you want. Ideally, your theme will have all the options you need, and not a lot of extras that weigh things down.
If you're starting an e-commerce site, for example, you'll want a theme that integrates well with WooCommerce. If you're a photographer using the site to display your work, your theme needs to handle photo-heavy content. For bloggers, it's best to choose something with attractive, easy-to-read typography.
Searching for your theme
Once you know which features your site needs, you can filter your options even further: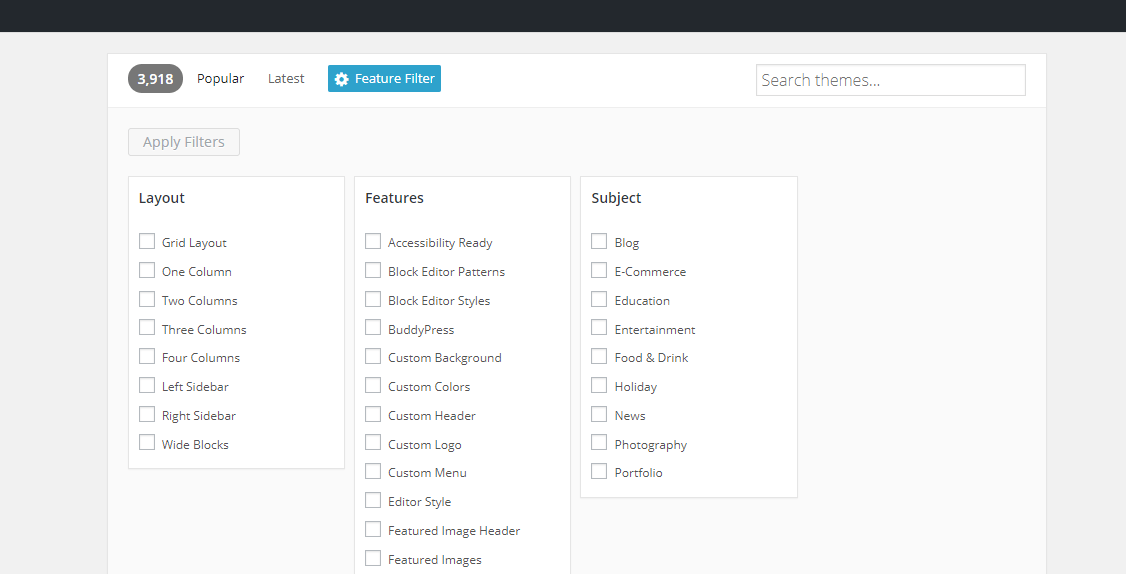 There are also some features you'll need no matter what kind of website you're building. With about half of web traffic coming from mobile devices, a responsive website is a must. You'll also want to be sure your theme is cross-browser compatible. Various browsers display websites differently, and it's important for your website to function well for everyone.
Once you've narrowed the available options down, it's time for hands-on testing. Most themes will have a preview or demo available for you to experiment with: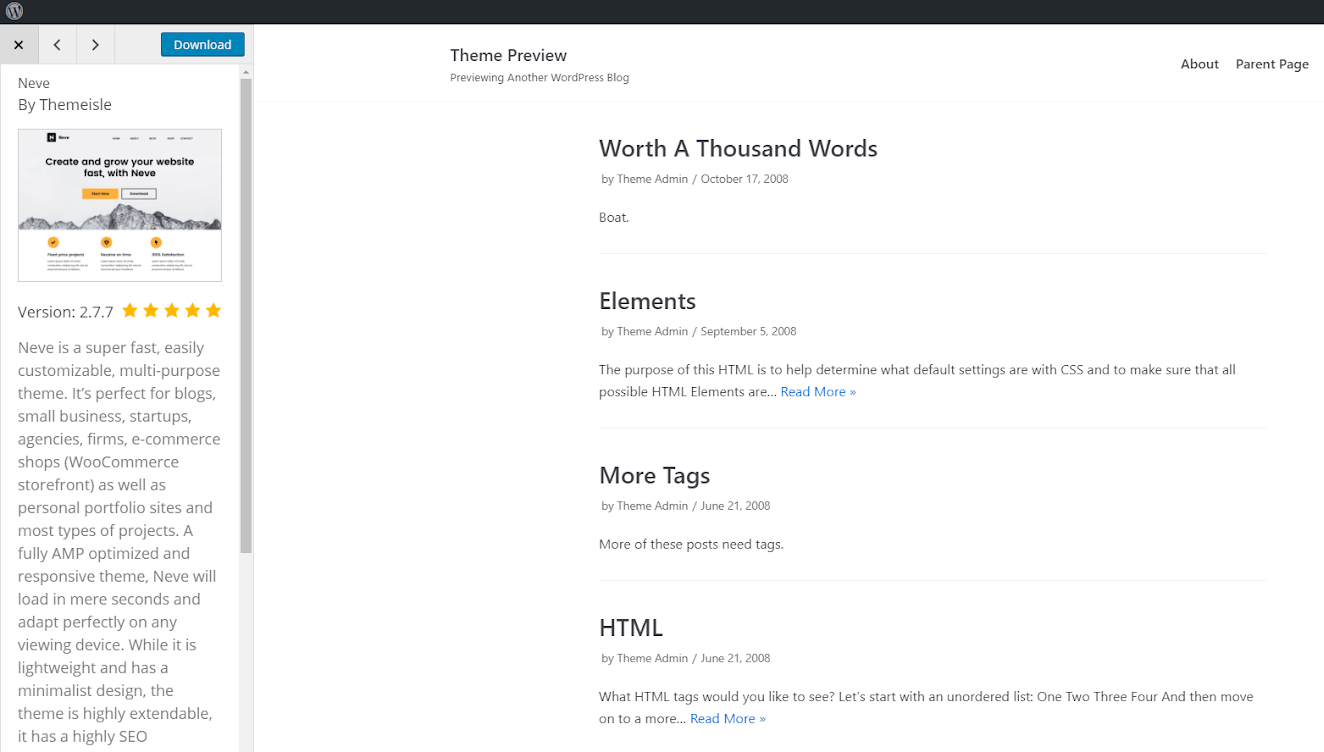 Demos give you an idea of what the theme looks like in 'real-life'.
Troubleshooting your theme
What if you've installed a new theme, and it looks nothing like the gorgeous demo you fell in love with? It's possible that your setup options don't match those of the demo you saw. You can fix this by navigating to Appearance > Theme Options, and configuring them to your liking: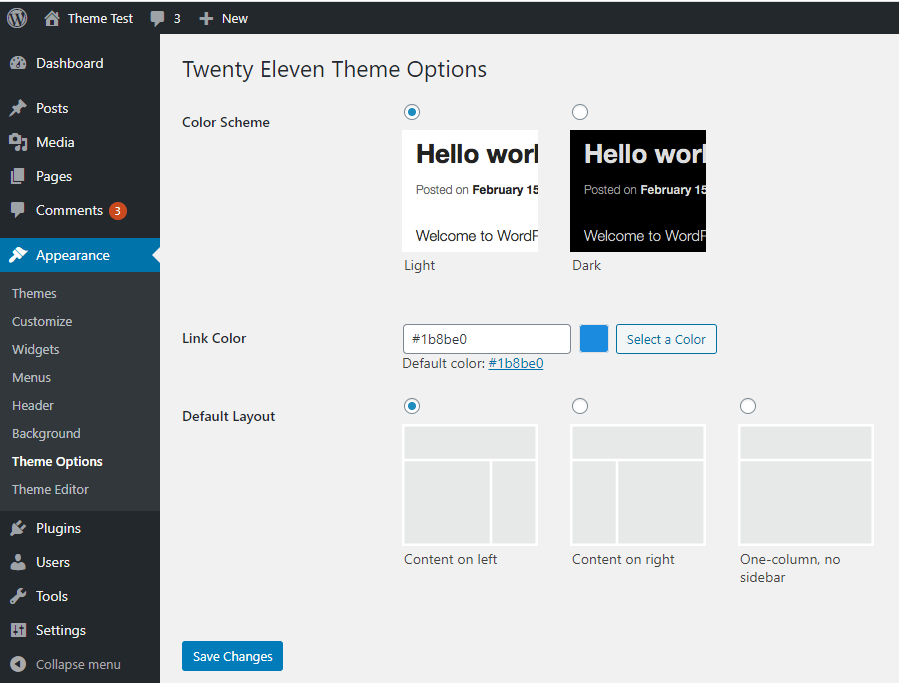 Not every theme includes a Theme Options menu, so you may need to use the WordPress Customiser instead. The available choices will vary depending on your theme, and you'll find them all under the Appearance menu. You can use this tool to tweak layouts, colours, and more: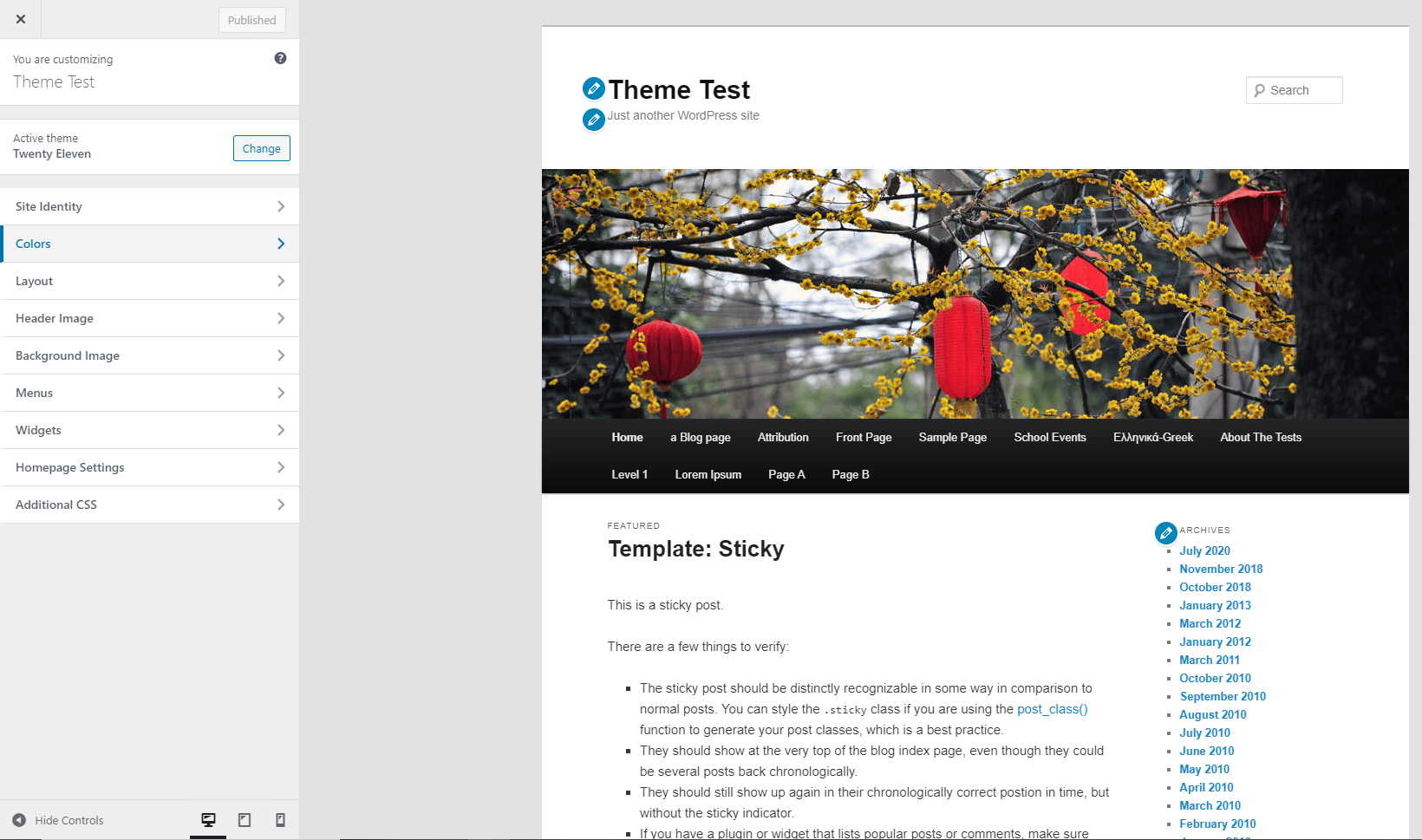 Importing demo content
If staring at an empty website is making you feel a bit overwhelmed, you might want to try importing dummy content to help you get started. First, you'll need an XML file. Fortunately, WordPress provides one that you can use.
From your dashboard, select Tools > Import. Then click on Install Now underneath the WordPress Importer to install the tool. After installation, the link will change to Run Importer: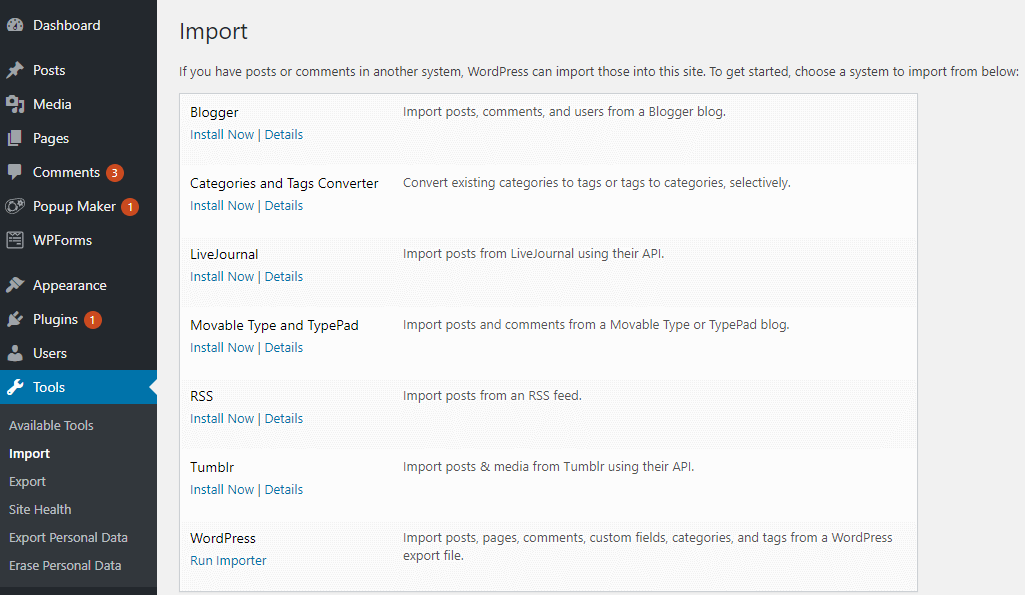 Click on Run Importer and select the XML file of dummy content. Check the Import Attachments box and click on Submit. You may have to wait several minutes for the file to upload.
Maintaining your theme
You'll also need to do some maintenance to keep your WordPress site secure. If you notice that an update is available for your theme, you can take care of it right away by selecting Update Now.
If you've made careful decisions when designing your website, you shouldn't need to make significant changes for a while. However, the internet moves quickly, so planning for a redesign every three years is a good idea. This redesign will likely include a new theme.
Switching Themes
When switching themes, there are some common issues that can arise. First, there's a good chance that your menus will disappear. You can fix this by going to Appearance > Menus, and selecting where your menu should be displayed: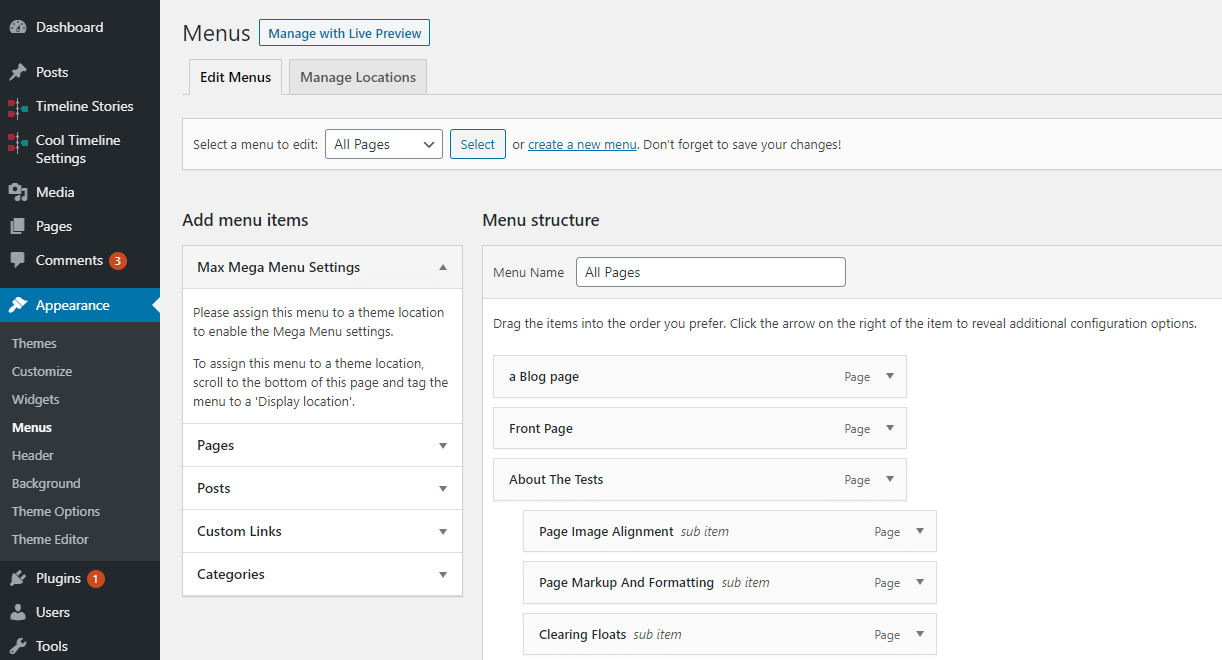 Be mindful of widgets when choosing a new theme. If you're currently using widgets, be sure your new theme supports them, or make an alternative plan for that content so that you don't lose any of the functionality of your website.
Time for theme shopping
Now that you're an expert, it's time to find your perfect theme! No matter what kind of website you're building, a little research will ensure that you have the features you need and can build the right website to support your business.