The most popular e-commerce platform worldwide, WooCommerce, has just released the latest version of its WordPress plugin. E-commerce ventures are on the rise, not just in South Africa but globally as well. So now is the time to keep up to date with the improvements offered in WooCommerce 4.0, and set up your online store for success. 
Did you know?
There are 32.6 million e-commerce users in South Africa.
Statista.com
In this article, we'll look at what you can expect to see in WooCommerce 4.0. We'll also explain how you can upgrade to the latest version. 
A brief introduction to WooCommerce

28% of websites that use an e-commerce platform run on WooCommerce. The plugin, which is free, boasts over five million active downloads. There are also many premium add-ons you can purchase.
If you're not using WooCommerce yet and wondering if you should, it's worth understanding why it's so popular. In a nutshell, WooCommerce delivers everything you need to set up a functional online store on your WordPress website, in a user-friendly interface that's perfect for beginners. It's also an open-source plugin and developers are always working to improve its features. 
WooCommerce's developers are constantly releasing minor updates to the plugin. However, WooCommerce 4.0 is the first major release of 2020. It offers enhanced admin features, a new onboarding experience, and more.
What's new in WooCommerce 4.0
Whether you're a new or existing WooCommerce user, it's helpful to know what the new update brings to the table. Let's look at what you'll get from WooCommerce 4.0.  without paid add-ons.
Customise your WooCommerce experience with new admin panel features
WooCommerce Admin, which was previously available as a separate add-on, is now fully integrated as part of the 4.0 upgrade. This brings a more customisable experience to all WooCommerce users: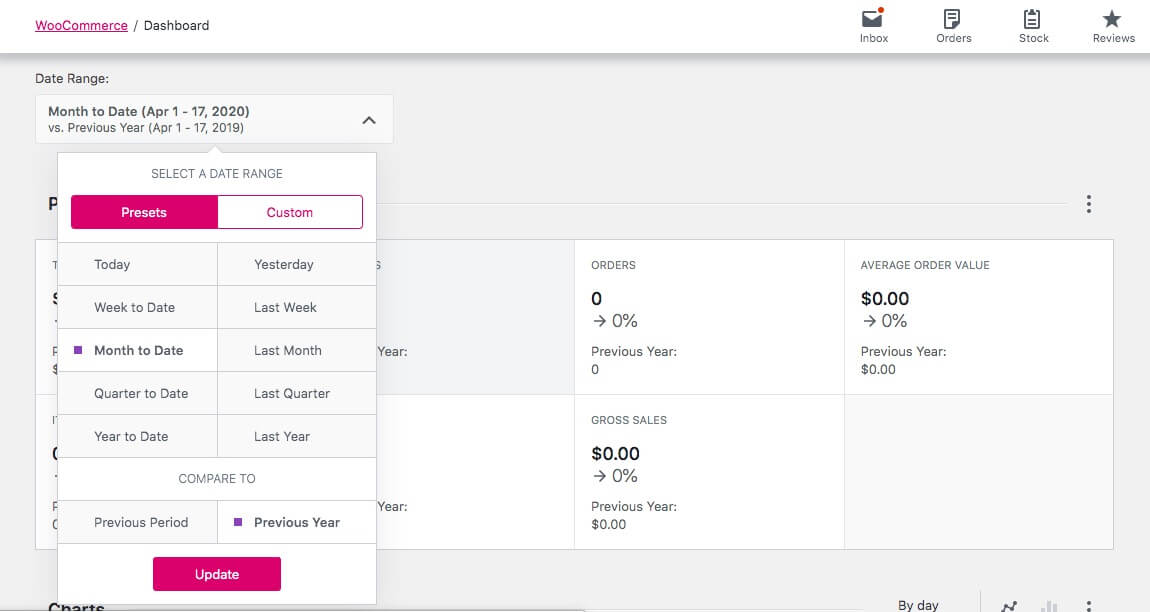 It's now possible to select from preset date ranges, for example, and also organise the data you want to see (and in what order). There are 14 data points available in the new admin panel, including a few highlights like: 
Total sales

Net sales

Orders

Average order value

Returns

Shipping

Downloads
There's also a new Activity panel, which provides convenient access to critical features from any WooCommerce admin page. Your Inbox, Orders, Inventory, and Reviews can all be opened and used as pop-out menus without leaving your current screen.
Bear in mind that due to the JavaScript dependencies that the new panel relies on, you'll need WordPress 5.3 or later. Otherwise, these features will automatically be disabled.
Create online stores quicker with a new onboarding experience
The WooCommerce setup wizard has also received a makeover. Five easy steps will lead you through the process of setting up your storefront. Once you configure your information, you can select your industry and enter a few key selling details.
Then you'll select your WooCommerce theme: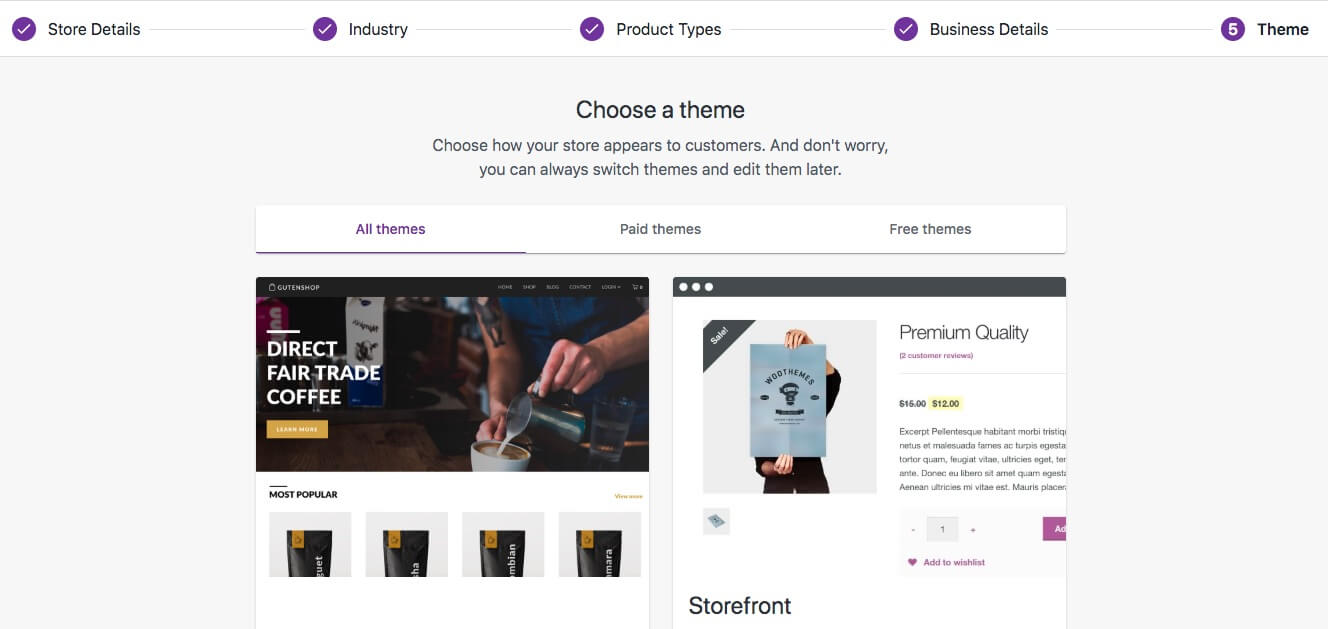 You can now enable sales-related services for Facebook, MailChimp, and Google Shopping during onboarding. These were previously separate integrations.
Control these settings by accessing the Help options in the upper-right corner of your dashboard. There, you can choose between the new experience or the previous version. You can also enable a useful Task List feature.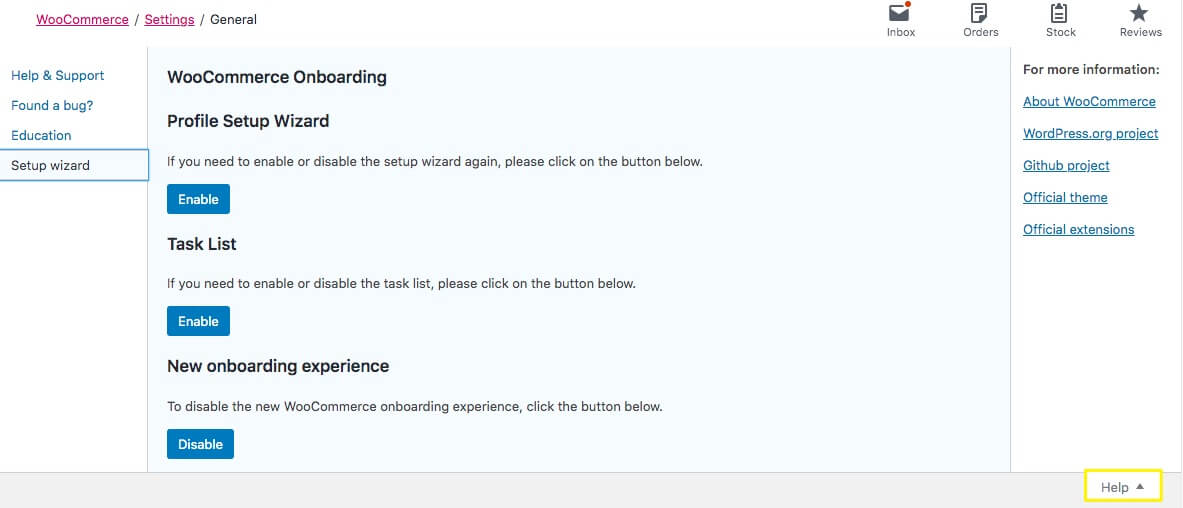 The Task List appears when you choose WooCommerce in your WordPress menu. It will remind you about the essential tasks you'll need to complete before your store is ready to go.
Benefit from an overall improved experience
WooCommerce 4.0 also improves many of the platform's background operations. These are handled by a programme called Action Scheduler, which runs behind the scenes and enables you to manage large product lists and complex workflows. 
A few other noteworthy updates include: 
Coupon filtering and customer ID search added to the

Order edit

screen

New WooCommerce Block options such as

All Products

,

Featured Products

,

Handpicked Products

, and more

Admins can now add past orders to the same email address of a new user

An improved 'cash on delivery' payment gateway
You'll also see improvements to the Value-Added Tax (VAT) settings, as well as updates in response to Great Britain's exit from the European Union.  
Upgrade to WooCommerce 4.0 and improve your e-commerce experience
Before launching the upgrade, it's important to know that WooCommerce 4.0 is not fully backwards-compatible. This means it might not work with older versions of WordPress, and testing it first in a staging environment is recommended.
Be sure to make a full backup of your website, just in case issues arise during the upgrade process. After that, you'll want to check out WooCommerce's comprehensive update guide. 
Each online business has unique needs. With WooCommerce 4.0, you have the freedom to create a system that's customised for your workflow needs and sales goals – all in one, free plugin.