What is 3D Secure?
3 Domain Security (3D Secure) is a service facilitated by Visa and Mastercard to protect card owners from unauthorised online transactions by requiring a One Time Pin (OTP) for each online transaction. When a payment is approved by the issuing bank the payment may not be charged back/reversed which in turn protects the vendor.
3D Secure is activated with ABSA, FNB, Standard Bank and Nedbank.
How do I register for 3D Secure?
The registration process may vary depending on the bank you use. If registration is required, it is a once-off process. Please review your bank's website for more details:
Mastercard's product is called "SecureCode" and Visa's product is called "Verified by Visa".
Is 3D Secure required on all payments?
Yes. The cardholder will be required to authenticate the payment using the One Time Pin (OTP). In order to make an online card payment to us (as we are 3D Secure compliant), you must be registered with your bank with this service activated on your card (see above for more detail). This is a once-off process that takes place in the secure environment of your bank.
How does 3D Secure work?

A customer enters his/her card details when making a payment. He/She is diverted to the bank that issued the card so that the cardholder can be authenticated, proving that the cardholder is entitled to use the card.
'Verified by Visa' or 'SecureCode' authenticates the cardholder by asking for a One Time Pin (OTP) that is sent to the authorised contact as per the cardholder's settings at the applicable bank (i.e. via SMS or email). If the issuing bank is satisfied with the unique pin that is provided, an authentication receipt is presented to the merchant bank along with the authorisation request, allowing the transaction to continue.
If the card's issuing bank rejects the OTP, the cardholder will need to contact their bank directly.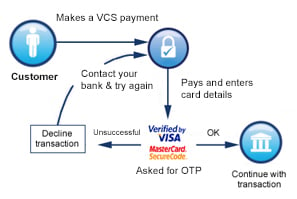 We make use of Virtual Card Services (VCS) as an online credit card vendor and they are 3D Secure compliant and is also the first South African payment gateway to be certified by both Mastercard and Visa for 3D-Secure transactions through First National Bank, Standard Bank, and ABSA.
'3D-Secure' refers to three parties involved in online payment security, they are:
The Merchant's bank
The Card Association's financial networks which are Mastercard and Visa
The Issuing or Cardholder's bank