You have probably seen a mention of our Managed WordPress Hosting on our website and social media channels. At its heart, it's a solution designed to enable small business owners and SMEs to take their businesses online quickly and help them grow.
In this post, we'll take you through the main features, and show you why everyone at xneelo can't stop talking about it.
What is Managed WordPress Hosting?
Managed WordPress Hosting is a hosting service that combines WordPress with our trusted web hosting. In other words, we install WordPress on our secure hosting infrastructure for you, giving you the benefit of both services in one. Over and above Web Hosting benefits like unlimited traffic, generous storage and security features, you also receive access to WordPress tools and features like various easy-to-use Starter Sites, a free staging environment, training videos and automatic backups.
It's our way of giving small business owners access to affordable WordPress features to help them grow and scale their businesses online.
Best of both worlds
With Managed WordPress Hosting, your feature set covers both hosting and WordPress.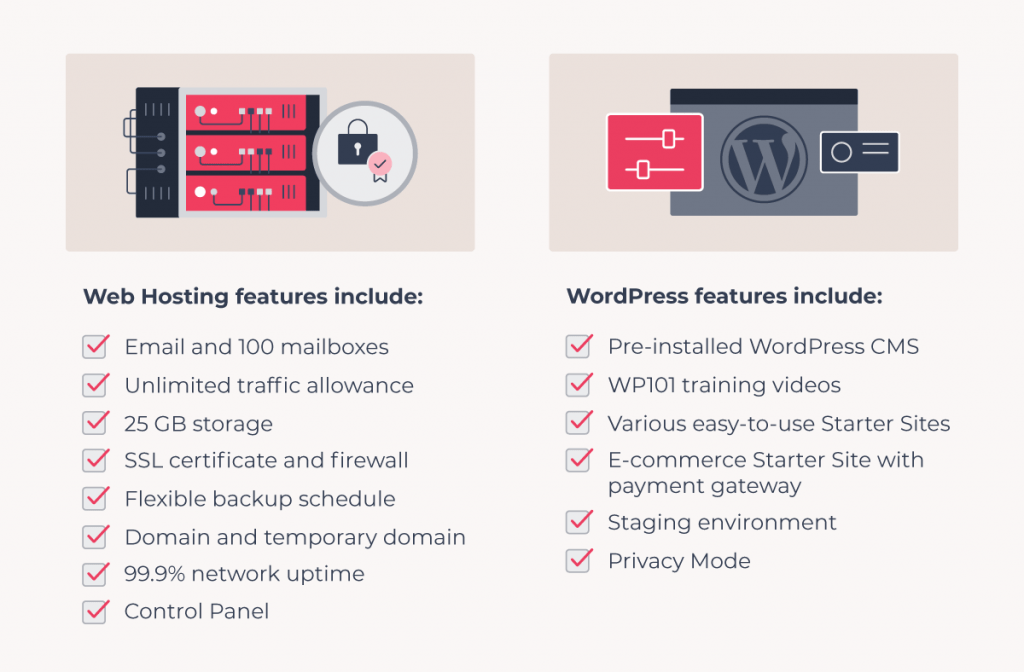 Managed WordPress Hosting saves you the trouble of having to install WordPress yourself, allowing you to get going instantly.
Easy-to-use Starter Sites
We've removed the hassle from conceptualising a design for your business website.
Similar to WordPress Themes, Managed WordPress Hosting includes 6 free predesigned Starter Sites to help you set up your business's website quickly. Suitable for a variety of industries and business types, these Starter Sites include key pages and functionality, as well as demo content and placeholder images, that can easily be replaced with your own using the WordPress Block Editor.
If you'd like to create an e-commerce site, use the Athletic Starter Site to build your store. Created with WooCommerce and pre-installed payment gateway, you can start accepting orders as soon as you go live. It also includes the pre-installed shipping integration, 2Ship, that allows you to select the fastest or cheapest courier option for each package. It's a quick and convenient way to access established South African couriers and get your e-commerce store up and running even quicker.
Learn more about creating an e-commerce store with Athletic here.
Play before you publish
Managed WordPress Hosting gives you a temporary domain to set up your account and create your website. In addition, you also have access to a staging environment to test out your website's functionality.

With your free staging environment or testing site, you can lay out a planned sale or promotion without disrupting your live website. Use it to demo these changes to your team or clients, and test out new features and functionality safely before copying them over. Privacy Mode allows you to restrict access to both your staging environment and website to prevent disruption to visitors while you make changes.
All the help you need
While we are here to manage your web hosting, your WordPress website is yours to control.
To help you get the best out of WordPress, we've curated a series of impactful WP101 tutorial videos to help you master the features you'll be using on your website journey including:
Choosing and customising a theme
Using the Block Editor
Adding pages and posts
Editing your profile
And many more
If you need technical assistance, our support team is available 24/7. You also have access to our Help Centre to assist you along your journey.
You can try Managed WordPress Hosting for a full month, obligation free, to test out the features mentioned above for yourself. We will never ask for your credit card details, and we'll let you know when your trial is about to end. If you like what you see, simply sign up and continue where you left off.