How to use Google Calendar with your domain email address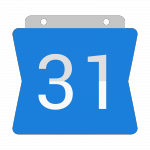 Is your domain hosted with xneelo and you want to use Calendar but want meeting invites to be sent from your domain address?
Google Calendar is easy to use with any email address, including your domain's email address with xneelo – you don't have to use GSuite or a Gmail address.
Create a Google Calendar account
Browse to https://accounts.google.com/NewAccount
At Username, select Use my current email instead and create a Google Account using your domain email address e.g. myname@example.co.za
Then browse to https://www.google.com/calendar and configure the new calendar. Ensure that your domain email address is displaying on the top right of the Google screen.
Ensure that you create a Google Calendar and not a Gmail account.
You now have a Google Calendar account using your domain email address. All invites that you send from your Google Calendar will be coming from your domain email address.