Colocation: Data Centre Security and Reliability
Our motto of Trusted in Hosting drives all that we do at xneelo. 
Our data centre infrastructure and environment have been carefully considered and the following measures are in place to provide a trustworthy home for your Colocation servers:
Location
We house servers in data centres across two locations: Samrand (Gauteng) and Cape Town. Colocation hosting is only offered in our Samrand facility.
Our Data Centre Park in Samrand is our default hosting location. The facility is not in a direct flight path or low lying area and is centrally located between Johannesburg and Pretoria with a major power substation close by. A geotechnical audit has been done to ensure ground stability.
Physical security
We leverage technology to provide comprehensive perimeter, building and access control security to ensure a safe environment.
The perimeter fence is backed by high voltage barriers, supported by the latest video surveillance technology and response systems.
All access zones inside and outside the data centre, including racks, are monitored by video surveillance.
Access to the data centre is controlled by biometric access control systems and progressive access control policies that allow unattended access to authorised visitors.
Onsite security personnel are on site 24×7 to ensure the wellbeing and safety of our visitors.
Colocation customers have 24/7 unattended access to their rack and a unique pin to each of their racks.
Fire prevention
The facility is custom-designed for low fire risk, with a Very Early Smoke Detection Apparatus (VESDA) installed to trigger alarms at even the slightest hint of smoke particles.
There are no flammable materials present in the 'white space' in the Data Centre and all cabling is fire-retardant.
Power outages
An 11kV power supply from the municipal power utility energises a fault-tolerant, medium-voltage ring that powers two separate low-voltage 2MVA energy centres. These A- and B feeds power mission-critical infrastructure such as IT load, air conditioning, security systems and emergency lighting. They provide seamless electrical failover with their own emergency backup power systems in the event of a power failure.
We have on-site fuel storage sufficient to run our generators for  7 days' continuously. Our UPS's provide always-on power, with a battery standby time of 30 minutes.
Since the opening of the data centre in 2013:
Besides routine generator load tests, our facility has run on generator power for over 93 hours due to upstream power failures or load shedding, without any power loss to customer's equipment during these times.

The power availability to colocation racks has been 100%.
Connectivity
Our network is multi-homed with multiple uplinks per data centre via at least two Tier 1 upstream providers and peering partners. Should a network failure occur, traffic is automatically rerouted via alternate uplinks, significantly increasing our network resilience.
Connectivity is provided through diverse, redundant fibre routes connecting the facility to a 10Gbps fibre ring.
Climate Control
We operate a bespoke air conditioning system that is specifically designed and optimised to be reliable, reduce carbon footprint and to keep operating costs down.
The system leverages the advantages of free cooling and cold aisle containment, reducing the reliance on mechanical cooling which results in significant power savings while in 'free-cooling' mode. As a result of this design, we have been able to achieve an average power utilisation efficiency factor (PUE) well below the industry average. For 2017, we achieved an average of 1.19.
The air conditioning infrastructure provides a redundancy factor of N+2 with a total sensible cooling capacity of 1400kW. The environment is controlled according to standards set out by the American Society of Heating, Refrigerating and Air-Conditioning Engineers (ASHRAE). 
The following graph shows the pod (cold aisle) temperature for one of our colocation pods over a 6 week period: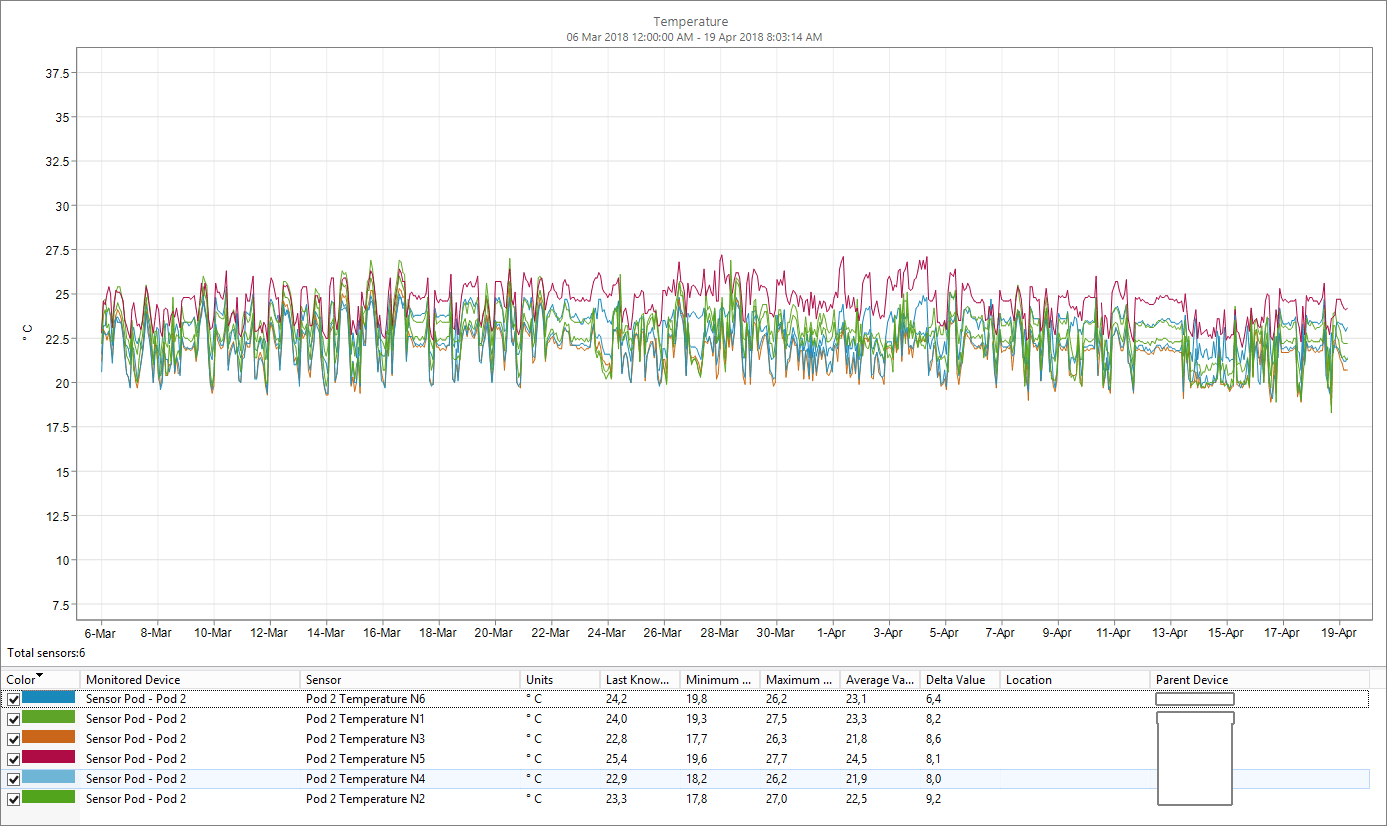 Also, see:
Our Data Centre park feature in Mybroadband magazine