Built using an award-winning green building design, xneelo's Samrand data centre proves our commitment to the environment while reducing operational overheads.
Climate change is a factor that affects everyone. Xneelo is committed to ensuring our data centre continues to exceed international standards of energy efficiency, to do our part for the environment, and to keep costs down for our customers. 
We're proud of the fact that Samrand has consistently achieved favourable ratings, beating industry averages year on year. Considering the size of our data centre, this year we achieved an exceptional annual PUE rating of 1.2.
What is Power usage effectiveness (PUE)?
Developed by The Green Grid, PUE is a global measure of how efficiently a data centre uses energy. The energy used by computing equipment, in particular, is measured in relation to its cooling and other overheads. 
How does our Data Centre save energy?
Our data centre setup and specific server rack positioning reduce the power needed to maintain a cool server environment. The high-density design efficiently manages our floor space, allowing us to run leaner while lowering maintenance costs. 
Our air conditioning system is designed to reduce our carbon footprint and keep costs down, which translates directly into savings for our customers. 
The system uses free cooling and cold aisle containment technology, to reduce the reliance on active cooling and the national grid, resulting in significant power savings.
As a result, we've continued to beat global annualised PUE averages: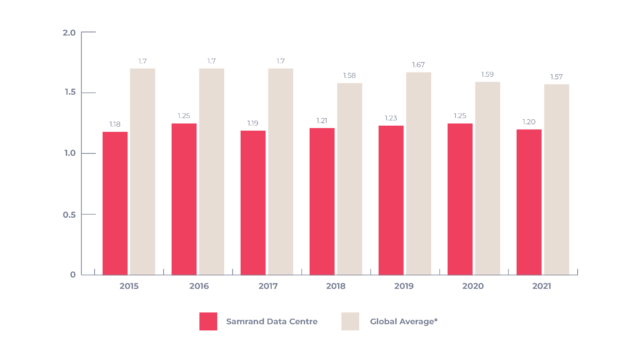 * Source: Uptime Institute Global Survey of IT and Data Centre Managers, 2020
The continued demand for our products and the high demand for cloud offerings will see our data centre management capability continue to grow in years to come, but our commitment to lowering our carbon footprint will always remain a core focus. 
Discover how our colocation services can support your business here.