The phrase 'content marketing' is thrown around a lot these days. But do you know what it is, and how you should be using it for your small business? 
Content marketing is a powerful marketing strategy for businesses of all sizes. By creating valuable, engaging content that resonates with your audience, you can build brand awareness, drive traffic, generate leads, build trust, and improve your search engine rankings – all of which can ultimately lead to increased sales and revenue. It's about using your blogs, press releases, news posts and even your social media posts to delight and engage, and help you meet important goals for your business. 
There are a few golden rules of content marketing that can make a big difference to your business – we've outlined them for you here.
What is content marketing?
Before we dive in, though, let's take a closer look at what exactly content marketing is. Essentially, content marketing means using your content as a marketing tool. Providing relevant, helpful information to your potential customers – in whatever format you choose – that positions you as an expert. It's important to be authentic in your content marketing. You're not advertising false claims or promising quick wins: you are authentically sharing your knowledge and expertise to make your customers' lives easier.
The golden rules: connect, create, share
There are three golden rules to content marketing, to ensure that you're getting the most out of your efforts. While you could see content marketing as just another Search Engine Optimisation (SEO) tactic – and there's no doubt that it's very helpful for your SEO – at its core, it's more about connecting to your customers in ways that are authentic and meaningful. Let's take a closer look at each of these rules.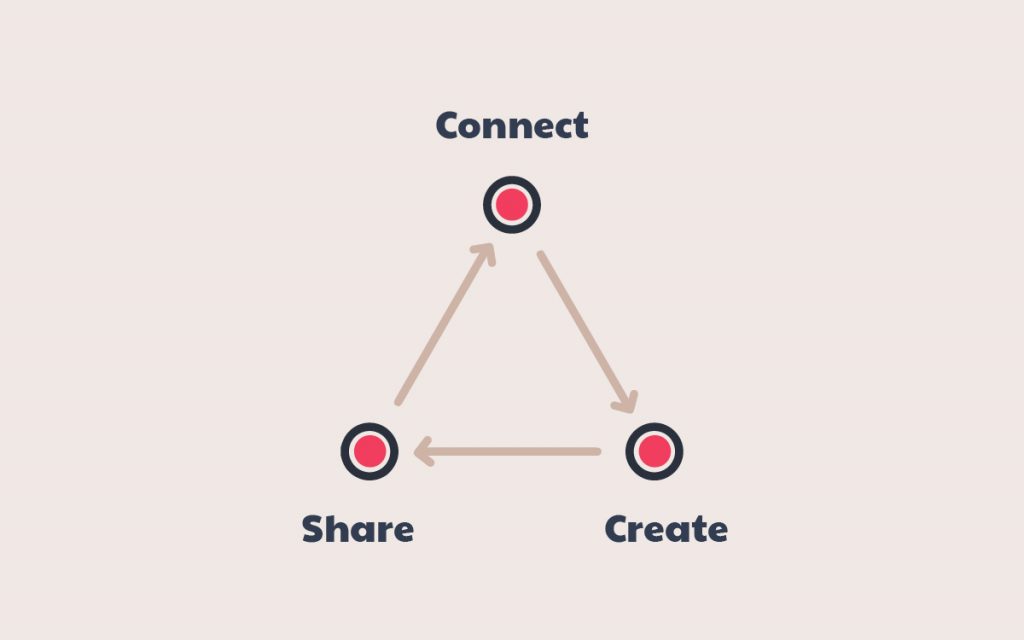 Connect
The first decision you have to make when deciding on a content marketing strategy is where you want to focus your efforts. It takes a lot of time to create meaningful, helpful content that is high quality and relevant – and that's the only kind of content you want on your site. There is no point churning out fluff that's peppered with the right keywords or getting low-cost bulk content to fill up your site. We are all too busy and the internet is already too crowded. You owe it to yourself and your customers to focus your attention where it can be really helpful.
So where are your customers, mostly? Do they come to your website, and if so would they prefer blog-style articles or videos? Do you interact mostly on Facebook? If so, would they prefer content in infographics or lists, or are they likely to click through to a longer-form article? If most of your customers are following you on Instagram, you'll want to tailor your content to be beautiful and keep the links to a minimum, because Instagram is not link-friendly. Engagement via comments can be very high if you're asking the right questions, though. If you're connecting with potential customers on LinkedIn, you can choose to link to the content on your site or to write LinkedIn articles. 
Deciding where to connect to your customers and in what format (writing, video, images, infographics) is an essential first step. Don't be afraid to ask your customers, too – if you have a newsletter or an active social media account, ask for feedback. This is also a great way to crowd-source ideas for content: you can ask what information people are looking for, or if they have any questions for you. The responses you get can feed into your content marketing plan.
Create
Think about what you're an expert in. What specific information or knowledge would you like to share with your customers? How could you make their lives easier? Once you've zeroed in on your topics, you can create content around what would help your customers to do their job quicker or more effectively.
This will look completely different for every company, and that makes sense. Perhaps you sell a technical product or service, and you can speak in advanced jargon because you know your customers speak the same language. Maybe you're launching a mass-market product and you need to appeal to the similarities in all of us – that will be a very different kind of content. Tap into what makes your customers unique, and what you have to offer them, and focus on that. Think of each piece of content you create as adding to your brand story, writing another chapter in your brand book.
If you've been running your business for a while, you can also think back to the things you wish you'd known in the beginning, and share insights about those aspects of your business. Think of it as a mentoring path, a way to show that your success was built step-by-step. What seems obvious to you now may be revolutionary for someone who has recently started. And, of course, don't be shy to share the stories of your customers and clients if they have given testimonials.
One caution when it comes to sharing specific knowledge: try to ensure that you're being as inclusive as possible. Not all of your customers will have the same background as you, so if there's anything that might not be obvious, try to link to an FAQ or Glossary section. Similarly, if you're working mainly with visuals, be sure to include both genders, all races and different ages so that you're not excluding an important part of your customer base.
Share
So now you've crafted your beautiful video, or you've written your series of articles or designed your infographics that explain everything you need to know about your specific niche. Now what? This is the fun part – you get to figure out how to share them with your customers and your future customers.
There are all kinds of options here. Yes, it's a good plan to have them living on your website or social media platforms. Yes, it's a good idea to include them in your newsletter so that your existing customers can upskill themselves. But how else can you disperse your content? How can you broaden your content marketing net?
You might choose to turn some of your articles into an e-book and offer it as a free download when people sign up to your newsletter. You could share it on your social media, or offer a shorter version of an online course as a free masterclass. Perhaps you design an infographic that shares all the must-know secrets about a certain topic, and post it to groups interested in that topic on Facebook. The options are endless, once you have the collateral to work with.
Content marketing might be as simple as starting a blog, or as ambitious as starting a podcast. It might be part of your daily work, or something that you enlist outside help with. What is important is that you have a clear plan for what content you want to share and that you know exactly where – and how – to share it. With the right plan, content marketing can be just one more way to empower your small business to great success. That's what we're rooting for.
Did you find this article useful? Try How to create a business blog worth reading.