What are 'Collaborators'?
We're moving away from Customer and Domain Level access (which is used in konsoleH), to user/role-based access in the new xneelo Control Panel. This means you're able to give certain people (called Collaborators) access to your xneelo Control Panel. There are different roles available, each with its own privileges. 
Unlike in konsoleH, where contacts (Billing, Technical, or Authorised) have access to view any area of your account, the Collaborators functionality limits what users can see (and do) while they're logged into your control panel. Each Collaborator will have their own login credentials which means you'll never need to share your personal login details with anyone (you never should!)
Benefits of using the Collaborators' functionality
It's easy to invite other users to collaborate on your account, giving them distinct user roles that determine their level of access (what they're allowed to do on your account). 
You manage who can access your customer account

Roles restrict users to specific functionality and features

There is no sharing of access credentials

One account, multiple users

Ability to switch between customer accounts with ease without logging out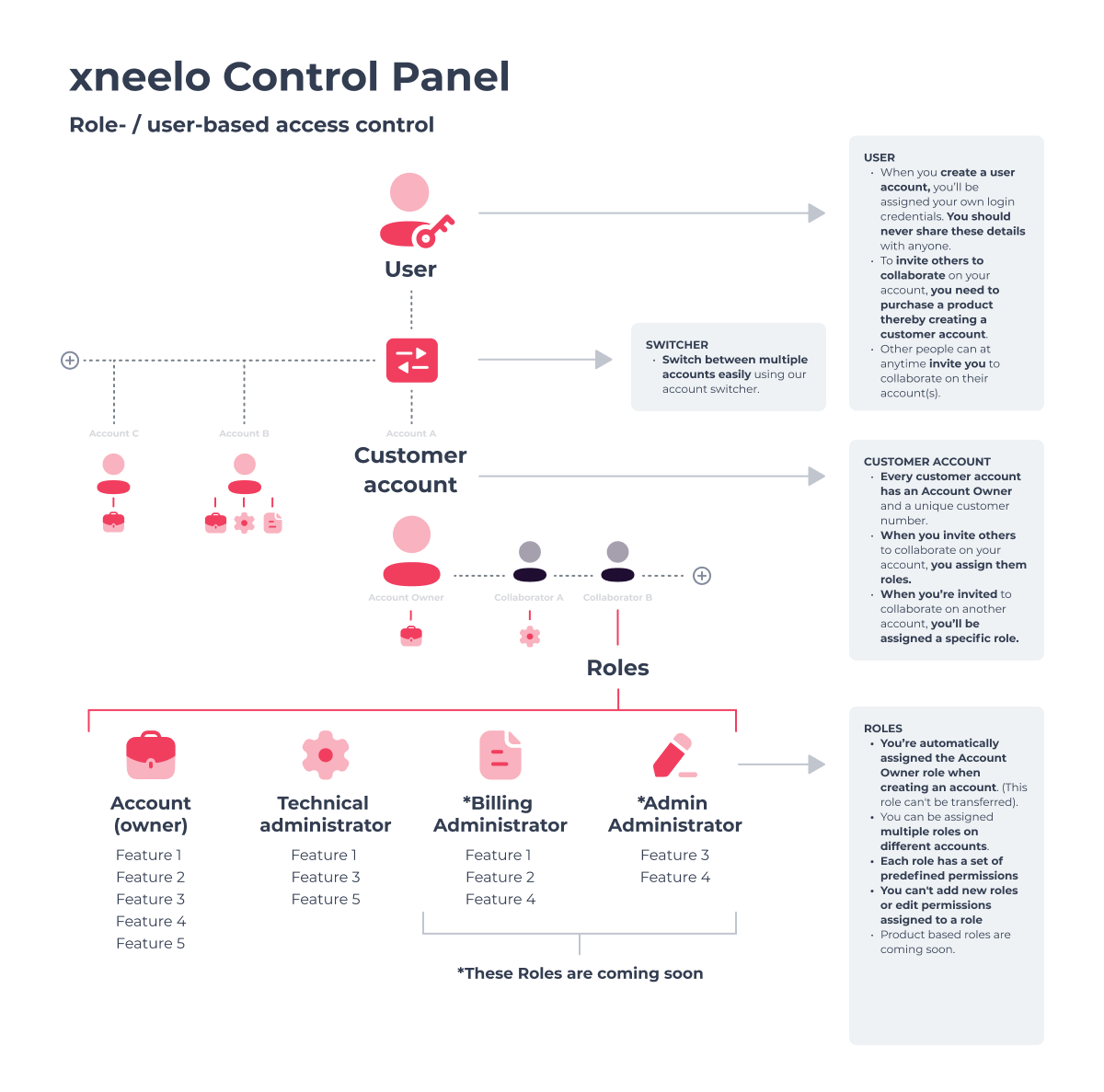 What are the different roles and permissions?
As a  Collaborator, you have access to various tools within the control panel. What you can access will depend on your role and permissions. 
Let's have a look at what each role includes:
Account Owner

As the Account Owner, you have the highest level of access and complete control over all the products and customer account data listed.  There can only be one Account Owner on a customer account. Account Owners have access to:
Account details and invoice overview

Collaborators – adding and removing them

All products and tools
Technical administrator
As a technical administrator, you have access to all technical functions, such as:
Mailbox administration

Server management

Database management

DNS administration
You will not be able to access Collaborators management, view billing and account details, or purchase additional products or services.
How to add or remove collaborators
Inviting a collaborator to your account
Select '

Collaborator management

' from the navigation bar.

Click '

Invite collaborator

' on the Collaborators management screen.

Enter the email address of the user you wish to invite.

Click 'Invite collaborator.'
Invited users will receive an email with a link that they will need to click on to accept the invitation. They will be requested to either log in to the xneelo Control Panel (or sign up if they haven't yet). Thereafter, they will be granted access to collaborate on your account.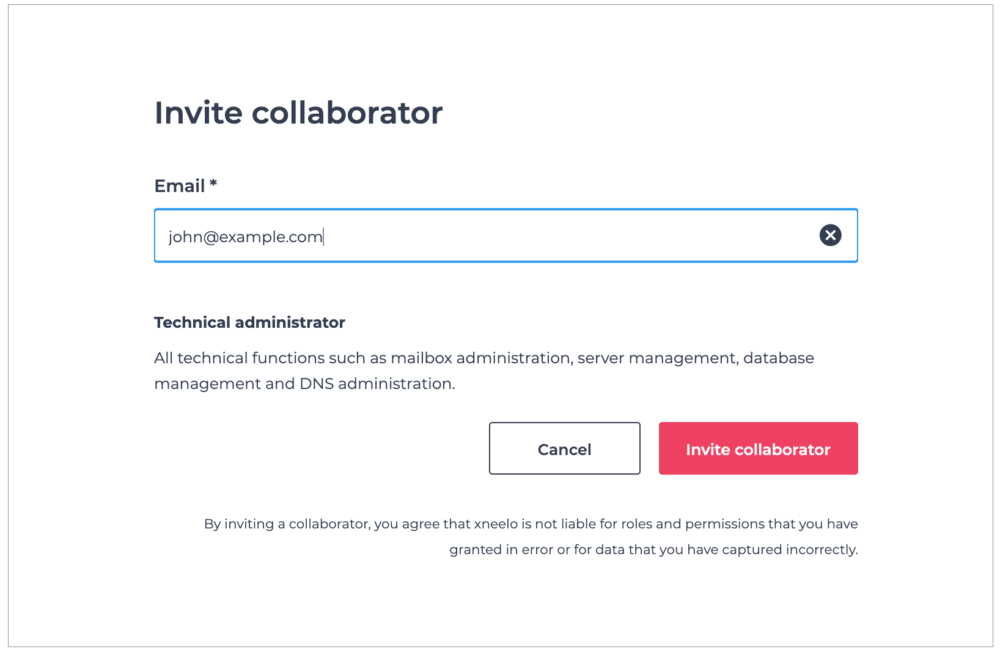 Please note:
By inviting a collaborator to your account, you agree that

xneelo is not liable

for any roles or permissions granted in error or for data captured incorrectly.

You can revoke access to a collaborator at any time (even before they have accepted the invitation).

The Technical Administrator role is the only available role at this point. More roles will be added as we expand this feature.
Removing a collaborator from your account
On the same Collaborators tool, click the

'Remove'

button next to the name of the collaborator whose access you wish to revoke.

Confirm that you have selected the correct Collaborator and click

'Remove'

in the pop-up message.
Note: You will receive a final pop-up message to confirm that the Collaborator has been deleted. As soon as this happens, they will no longer have access to your account. Should they attempt to log in, they will receive an 'unauthorised access' notification.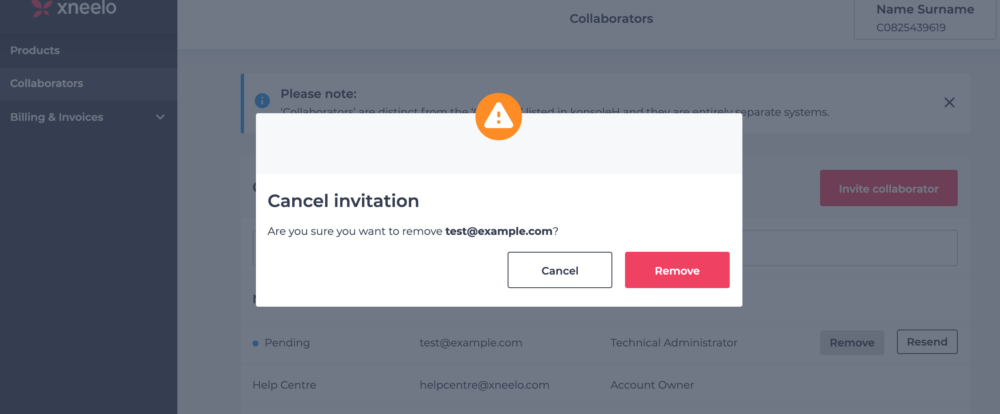 Using the Account Switcher feature
With the Account Switcher feature, you can easily switch between various customer accounts that you have access to. This includes your own customer account, as well as any other customer accounts you've been granted access to.
This feature enables you to navigate between various accounts, without needing to sign out and log back into each account individually.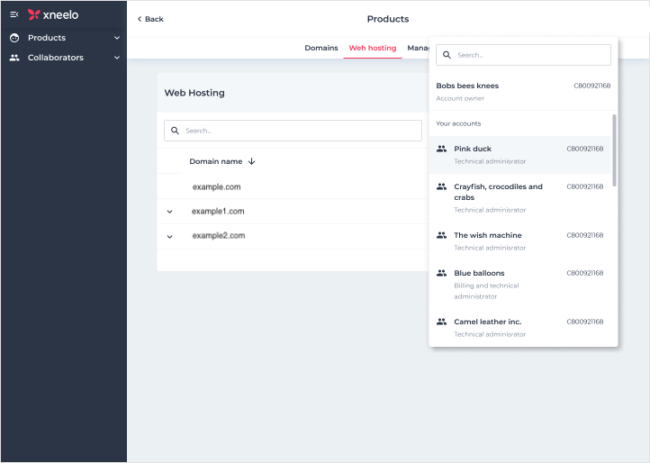 Note: More roles, (including Account Administrator, Billing Administrator, Technical Admin per product, Email Admin per product and DNS Admin) will be added as we expand this feature.