We all know running a small business can be very rewarding, but it's also a complex and time-consuming job. Fortunately, creating a website is one aspect that doesn't have to eat into your resources.
At least, that's the case if you build your site with WordPress. Large or small, the majority of websites count on this user-friendly Content Management System (CMS) for their business needs. In fact, when it comes to CMS users, 62.4% choose WordPress.
In this article, we'll take a look at how to get your website up and running with WordPress. Let's jump right in! 
What you need before launching your website
There are a few key components to secure before you can get your small business website off the ground. First, you'll want to decide what type of website you need. A simple brochure-style site will suit some, while others need an e-commerce solution. 
Next, you'll need to register a domain name that your users will remember. Fortunately, there are plenty of useful tips that can help you find the right one. In a nutshell, it's smart to balance creativity with simplicity – and make sure it's easy to spell!
Finally, you'll need a reliable and secure WordPress hosting service. Here at xneelo, we provide a free Let's Encrypt certificate with all of our packages. This is a vital feature for business websites. Plus, our highly-ranked customer support is always here when you need them.  
How to set up a WordPress website in 3 steps
Regardless of your website's use and style, WordPress is our recommended CMS. That's especially true if you're looking for a 'no-coding' experience. WordPress provides a simple-to-use dashboard, and you can use the built-in Customizer to make changes without digging into your site's source code.
It takes just three steps to get your website set up on our hosting platform. Let's walk through how the process works.
1. Install WordPress with our one-click installer
Your xneelo hosting account comes with a quick WordPress AppInstaller. You'll find it in your konsoleH Control Panel: 

Once you log in to your panel, navigate to Software > Applications > WordPress.  Then you can install WordPress by clicking on Start Install and Finalise Installation. After that, you'll complete the WordPress setup form and be able to access your admin panel. 
2. Choose a theme that showcases your business website
With your website installed, you can customise its look by selecting a WordPress theme. You can find plenty of options in the WordPress Theme Directory, or from reputable theme developers and theme marketplaces. Free themes sometimes lack support or updates, so it can be worth purchasing a premium theme instead. 
To add a theme to your site, navigate to Appearance > Themes > Add New in your dashboard. From there, you can add a theme from the directory, or use the Upload Theme option for one you've purchased:
After installing and activating your theme, you can begin to customize elements such as your site's title and tagline. To do that, you'll go to the Settings > General menu:

You can change the information here, and save your changes. Then you're ready for content!
3. Start customising your site and adding content
Adding and editing content in WordPress is straightforward. You can navigate to Posts or Pages, and select the Add New option: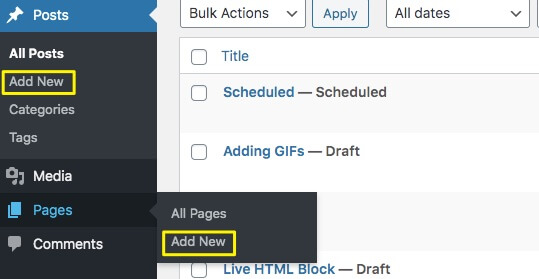 One of the reasons WordPress is easy (once you've mastered it) is because its interface is consistent. For example, the Block Editor is available whether you're adding a post or a page: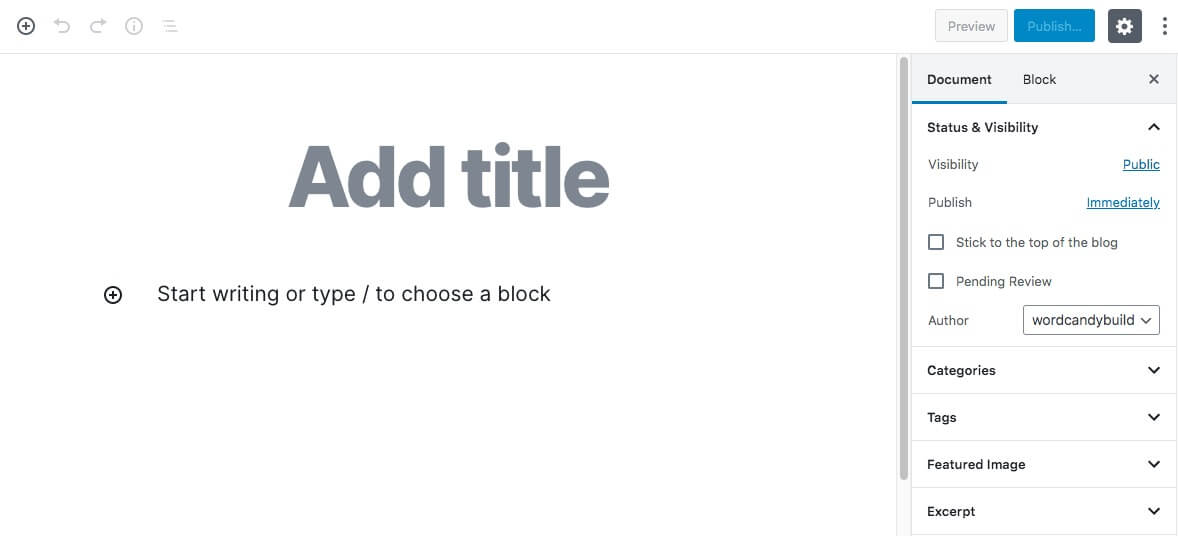 If you're setting up an e-commerce website, you'll likely need to install some plugins to help extend WordPress' functionality. With the right platform, you'll be able to add products to your website just as easily as other content. 
Get started the right way with WordPress
There's a lot to think about when launching your business website. The good news is that it's not hard to avoid some of the most common mistakes. You'll want to:
There's no time like the present to give your business a boost with a new website. This is especially true as South Africa continues to invest in small businesses to help the economy grow.
With this guide, you'll be able to get your website set up in minutes. Remember to use our one-click WordPress AppInstaller. Then you'll just need to customize your site's title, choose your business theme, and start adding some content!