Domain renewal
Domain names are automatically renewed on your behalf, and you are billed in the next billing cycle. You will receive a renewal email, or you can view the date that your domains are due for renewal via the Domain Renewal list in konsoleH.
View your Domain Renewal List
Browse to konsoleH and log in at Admin level.
You can download a .csv format list of your domain names and associated renewal date, or
Use the Show me drop down list to view domains by status e.g. active, in their cancellation period, or in transfer.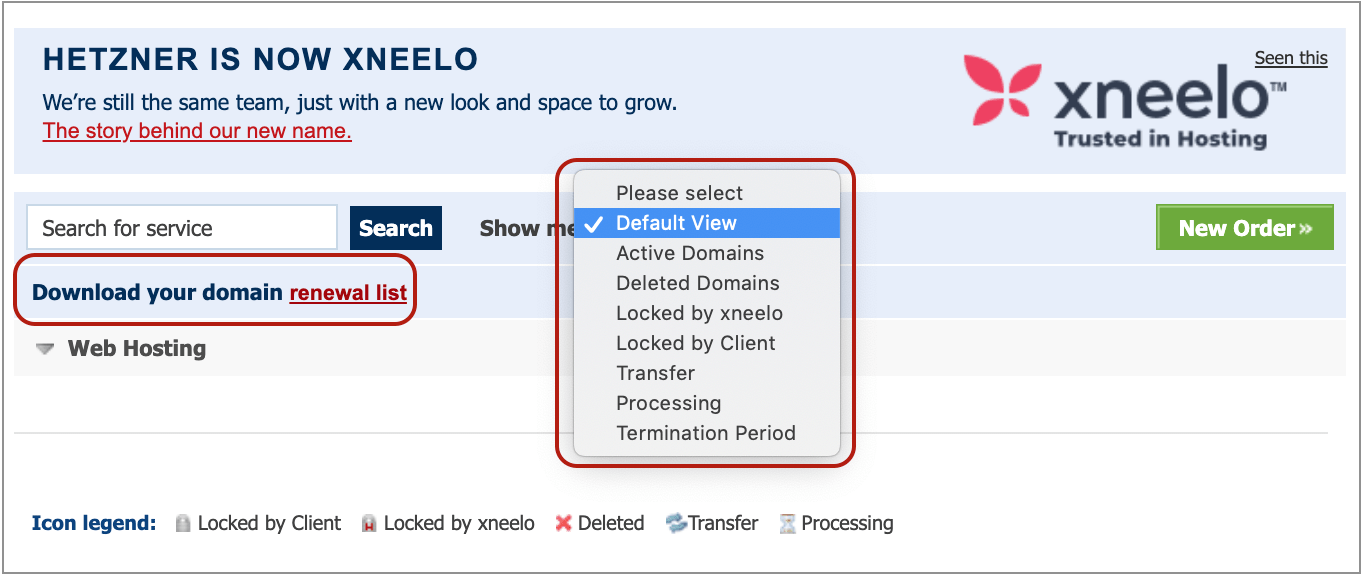 Renewal Reminders
An automated renewal reminder is emailed to the primary authoritative email address listed on the account two months before a domain is due for annual renewal. Strict credit policies require us to confirm the renewal in advance for a further 12 month period.
If you wish to renew your domain name, you can safely ignore the renewal reminder message and we will automatically continue to provide you with our hosting services. However, should you wish to cancel this service, a link will be provided in the renewal reminder, specific to each domain. Clicking on it will notify xneelo not to renew your domain name.
A renewal reminder is not an invoice. Invoicing for services takes place as per xneelo's billing cycle and payments requested or debited accordingly.
Domain renewal costs are available on the domain pages on the xneelo website.